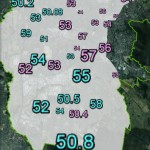 Aston is the most marginal Liberal seat in Victoria. The seat is held by 0.7% and lies in the eastern suburbs of Melbourne.
Aston is held by Alan Tudge, who succeeded Chris Pearce in 2010.
The Liberal Party held the seat by 5% in the lead-up to the 2010 election, which was cut to 1.8% at the election. Tudge's margin was cut further to 0.7% at the recent redistribution.