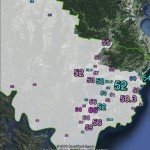 Robertson covers parts of the NSW central coast, including Gosford, Woy Woy and Erina. It is held by the ALP by a 1% margin.
The seat is held by the ALP's Deborah O'Neill, who won preselection off her predecessor Belinda Neal in 2010.
Neal had been hit by numerous scandals during her one term in Parliament, but remarkably the ALP managed to increase their margin in Robertson from 0.1% to 1.0%.